Get Ready To Taste
Our Jerky
Whether you like spicy, sweet or regular, our exciting flavors for every adventure.

Our Jerky
Smokey Heat
Gnarly Garly
Smokey Fire
Pineapple Express
The Best Jerky Out There

I can assure you Bogey's Beef is the best beef jerky around. Ever since my campus store started selling it, I can no longer eat any other brand of jerky because it just doesn't taste the same..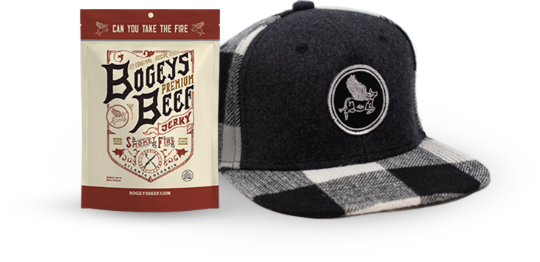 We Deliver!
Don't live near one of our awesome retailers? That's okay! Shop online to get our beef jerky and swag delivered right to your doorstep.
Join Bogeys Buddies
Send us your best pictures and videos to bogeysbeef@gmail.com and we will upload them to the Bogey's Buddies page. We love to see ya'll enjoying our beef.
Send Us A Message
Hi, we're happy to hear from you and answer any question about our products or production. Or if you just want to rave about our beef, feel free to do that too!